All Runners Welcome at the Door County Half Marathon
by Aleah Kidd
Every year, once the holidays have passed and New Year's resolutions are freshly set, my mind looks ahead to the first weekend in May. For the last six years on that Saturday I've run the Door County Half Marathon held in Peninsula State Park, and this year will be no different: I plan to sign-up, train, and perhaps cajole one or two friends to run it with me.
Back in 2013, I stood at the starting line of the race having never ran a half marathon before, thinking to myself "Will I finish or will I pass out at the top of Sven's Bluff? Was I supposed to wear compression socks? Did I eat enough pasta?" My nerves made my palms sweat, even with the slight chill in the early spring air. I didn't know what to expect, but the sun was shining and I was in beautiful Door County. As the starting gun went off, I took a deep breath and set my mind to enjoying a long run in the woods.
That same year, Natalie Anderson, a runner from Menominee, Michigan, was about to run her first Door County Half as well. Having run a few half marathons in Green Bay prior to starting a family, she now was coming back to running as a mother of two and planned the weekend as a way to spend time with her girlfriends.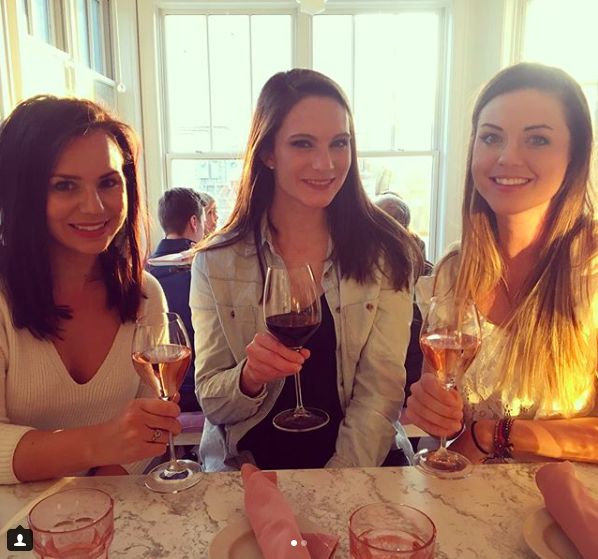 "It's a really pretty course," she said. "And the timing of the race is perfect; with the start time at 10 AM on a Saturday it makes for an enjoyable weekend. Plus, that early in the season means the temperatures aren't too hot or too cold."
As a first-time half marathon runner, I had heard from past participants that the course has its challenges (read, hills), but the atmosphere, gorgeous scenery and camaraderie quickly turned the mountains into mole hills and made for an unforgettable experience. According to Natalie, "I enjoy running the course a lot, especially compared to the area around where I live, which is all very flat. I like the challenge of the ups and downs."
Having run the race for six years straight, she's more than grown accustomed to the course and its nuances. In fact, in 2017 after starting a training regiment with running coach Victoria Phillippi of Run4PRs, she was the first female across the finish line at 1:31, her personal best. One month later she ran Grandma's Marathon in Duluth, Minnesota which qualified her for the prestigious Boston Marathon.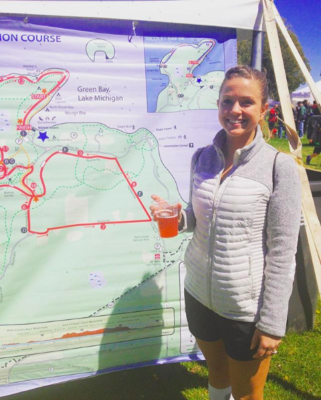 One year I took a break from trying to outrun myself and paced my friend, Jacci Denton, whom I had invited to run her first half marathon. What stood out to her about the event was the wide variety of runners who partook. "There were so many people of all ages and abilities, which was really cool and inspiring," she said, "and as a first time runner, I felt super comfortable."
Race participants represent a diverse range of runners. The youngest and oldest runners in 2018 were 13 and 77 respectively. Runners travel from across the state and Midwest to participate, with 20 percent coming from Chicago area. Walkers are also invited to participate as long as they walk within a average of 16 minutes per mile.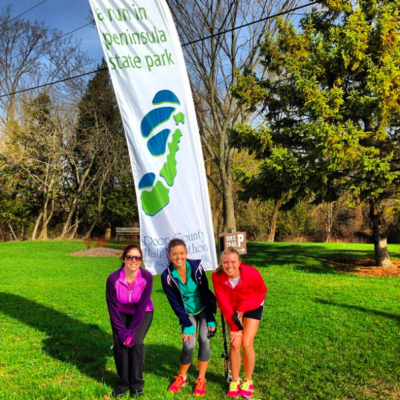 Jacci has since run the race a second time, and plans to do so again. "I always recommend this race to first time and seasoned runners for a few reasons – the course is beautiful, everyone involved is helpful and friendly, and finally, being is Door County for the weekend is just so much fun! The energy after the race is amazing."
The post-run concourse is a highlight of the day; located near the lakeshore, celebratory runners gather to enjoy the free beer or kombucha, listen to the live band and make plans for the rest of the weekend. Historically, weather tends to be sunny and spring-like, making for a refreshing kick-off to the warmer months on the peninsula.