This year marks the 5th year hosting an aid station for the Half Marathon for the Pirates of the Harbour. They host what may be the most important aid station on the course – coming at the top of the climb up Sven's Bluff!
It's the perfect location for this fun-loving group. Each year they come in full regalia complete with a Pirate Ship, providing the humor and fun runner's need to rejuvenate them after the climb!
"The money we receive is donated to the Friends of Peninsula State Park for the work they do keeping the park alive and fun," says Pirates president Diane Abts. "Our hats off to them for their efforts!"
Abts says the race is a blast for her "Pirates."
"As we watch the runners approach us way up on Sven's Bluff after the grueling hill and watch the smiles break out, some sing along to our pirate shanties – we've even had some dancers – it's such a rewarding feeling knowing that when they got to our station many of them were dragging and left with a spring in their step and many an ARRRGH!"
The club has raised and donated more than $44,000 to charitable causes since forming in 2009, with all of that money staying in Door County.
The group's meetings/socials are held the 3rd Saturday monthly at Mr. G's Logan Creek Grille in Jacksonport. Guests are always welcome to stop in and chat.
The Mission of the Pirates in the Harbour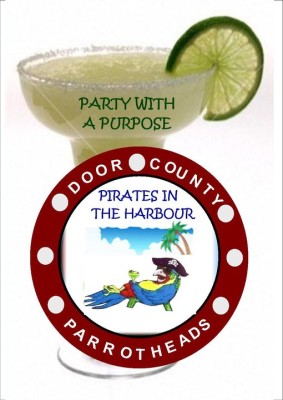 To promote The Pirates in the Harbour, Inc., a Parrot Head club, as a humanitarian group supporting community and environmental issues in our beloved Door County. 
 Our organization will engage in activities which are charitable, high spirited, and promote the general welfare of the entire Door County community. We are dedicated to leaving things just a little better than we found them and having a blast doing it!
We will be active in community projects and concerns as a means of social interaction with like-minded people who enjoy the lifestyle, tropical spirit and music of Jimmy Buffett.
We hope to increase our membership and  benefit our community and environment as we PARTY WITH A PURPOSE!
To that end, let me welcome you to The Pirates in the Harbour, Inc. Parrot Head Club.