When Teresa and Austin Adler's son Eamon was eight weeks old, they heard news that no parent wants to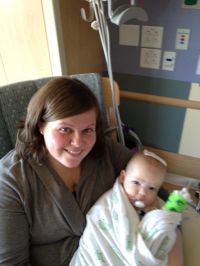 hear – their son had a serious medical condition.
He was diagnosed with craniosynostosis, a condition in which the growth pattern of the skull is impaired. The condition can lead to visual and mental impairment, and in their son's case, required the reconstruction of his skull.
In that trying time the Madison, Wis. family received the gift of support from Cranio Care Bears.
"Their online community, care packages, and wealth of information helped us be confident, informed, and hopeful," Teresa says. "I'd love to run longer than I ever have before in an effort to raise money for the organization that has been such a positive force in our lives."
Teresa and Austin have run the Nicolet Bay 5k each of the last two years, but this year they're upping the ante and running the half marathon distance to raise funds for the Cranio Care Bears. They aim to raise $500 to help the organization that helped them so much help other families in their time of need. As for their son, he's doing "amazing," mom says, as evidenced the the photos of him nine months after surgery.
You can donate to their cause by emailing Teresa at Teresa.Adler@genusplc.com, or by visiting theirCrowdrise page.