For many finishing is reward enough, but there are others who run to challenge themselves by time and competition.
For those we have put together award packages that should give everyone a goal to shoot for. A podium ceremony with photo opportunities will highlight the post-race festivities for the Door County Half Marathon and the Nicolet Bay 5K in Peninsula State Park.
Thank you to our generous sponsors who have contributed to the prize packages this year!
1st Place Male Overall
Pottery created by race director Brian Fitzgerald of Ephraim Clayworks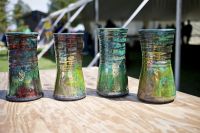 2-night stay at Parkwood Lodge
$150 Gift certificate to On Deck clothing company
$100 Gift certificate to Run Away Shoes
2 Tickets to a 2015 Midsummer's Music Festival concert and CD
1 case of Tapuat Kombucha (various flavors)
$50 Gift certificate to Ecology Sports
Gift certificate to Fish Creek Optique
1 Ticket to a show at Northern Sky Theatre (formerly AFT)
1st Place Female Overall
Pottery created by race director Brian Fitzgerald of Ephraim Clayworks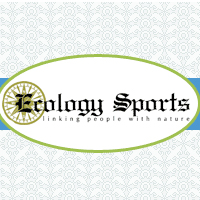 2-night stay at Parkwood Lodge
$150 Gift certificate to On Deck clothing company
$100 Gift certificate to Run Away Shoes
2 Tickets to a 2015 Midsummer's Music Festival concert and CD
1 case of Tapuat Kombucha (various flavors)
$50 Gift certificate to Ecology Sports
Gift certificate to Fish Creek Optique
1 Ticket to a show at Northern Sky Theatre (formerly AFT)
1st Place Male Masters
Pottery created by race director Brian Fitzgerald of Ephraim Clayworks
$100 Gift certificate from On Deck clothing company
2 Tickets to a 2015 Midsummer's Music Festival concert and CD
1 case of Tapuat Kombucha (various flavors)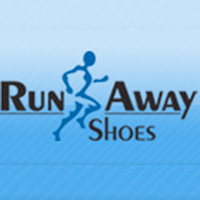 $50 Gift certificate to Ecology Sports
Gift certificate to Fish Creek Optique
1 Ticket to a show at Northern Sky Theatre (formerly AFT)
1st Place Female Masters
Pottery created by race director Brian Fitzgerald of Ephraim Clayworks
$100 Gift certificate from On Deck clothing company
2 Tickets to a 2015 Midsummer's Music Festival concert and CD
1 case of Tapuat Kombucha (various flavors)
$50 Gift certificate to Ecology Sports
Gift certificate to Fish Creek Optique
1 Ticket to a show at Northern Sky Theatre (formerly AFT)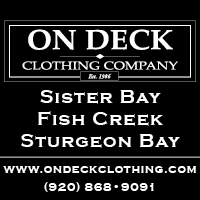 1st Place Male Nicolet Bay 5k
1 case of Tapuat Kombucha (various flavors)
$50 Gift certificate to Ecology Sports
Gift certificate to Fish Creek Optique
$175 Gift certificate to Run Away Shoes
$75 Gift certificate from On Deck clothing company
2 Tickets to a 2015 Midsummer's Music Festival concert and CD
1 Ticket to a show at Northern Sky Theatre (formerly AFT)
1st Place Female Nicolet Bay 5k
1 case of Tapuat Kombucha (various flavors)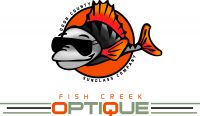 $50 Gift certificate to Ecology Sports
Gift certificate to Fish Creek Optique
$175 Gift certificate to Run Away Shoes
$75 Gift certificate from On Deck clothing company
2 Tickets to a 2015 Midsummer's Music Festival concert and CD
1 Ticket to a show at Northern Sky Theatre (formerly AFT)
Divisions
Male and female division winners of both races receive plaques & free entry into the 2016 race or Peninsula Pacers commensurate gift cert. Divisions are:
Masters (40+)
Grand Masters (50+)
Sr. Grand Masters (60+)
Age Groups
Half Marathon
Medals will be given to the top 5 male and female finishers in each of the following age groups:
19 and under
20-24
25-29
30-34
35-39
40-44
45-49
50-54
55-59
60-64
65-69
70-74
75+
Nicolet Bay 5K – medals 3 deep
Medals will be given to the top 3 finishers in each of the following age groups:
9 and under
10 – 14
15 -19
20-24
25-29
30-34
35-39
40-44
45-49
50-54
55-59
60-64
65-69
70-74
75+