The Door County Half Marathon and Nicolet Bay 5k returned to spring for the first time since 2019 on Saturday, and more than 1,500 runners were rewarded with perfect May weather for a race.
For the first time, a Door County resident won the Door County Half Marathon. Grayson Stout, 27, of Egg Harbor finished in 1:11:49, almost three minutes faster than second place Rickus Jacobs of Milwaukee. Four-time winner Rodee Schneider of Madison finished third in 1:15:39. 
Brian Finnel, a native of Forestville, won the race in 2012, when he lived in Oshkosh, and again in 2015 after moving to Madison.
On the women's side, Relena Del Toro Ribbons inched closer to the course record but came in just five seconds off the all-time mark set by Hanna Christensen in 2019. Ribbons finished in 1:22:10, nine seconds faster than her finish last October. Kristin Oehlke of Fremont finished second in 1:34:56, followed closely by Stephanie Clapham of Wilmette, who finished in 1:34:59.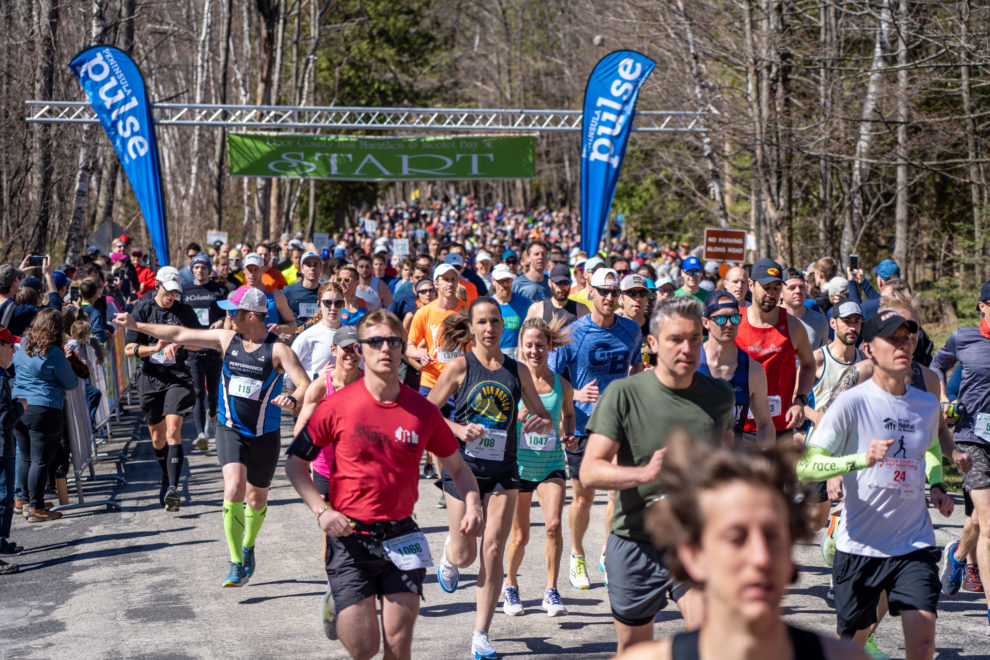 History was nearly made in the Nicolet Bay 5k as well. Nicole Struts, 27, of Two Rivers, nearly became the first woman to finish first overall in the race. She finished in 18:28, just 13 seconds behind Dylan Schielke, 26, of Merrill. Erik Franze, 24, of Waukesa was next in 18:54, followed by Joseph Stoner, 34, of Indianapolis in 19:09.
Behind Strutz on the women's side were Gemma Mrozinsky of Sturgeon Bay, who finished in 22:11, and Heather Biese, 31, of Kaukauna who finished in 22:44.
Find complete race results here. The 15th Door County Half Marathon and Nicolet Bay 5k will be run Saturday, May 6, 2023. Registration opens in October. 
Half Marathon
Men
Grayson Stout, 27, Egg Harbor, 1:11:49
Rickus Jacobs, 27, Milwaukee, 1:14:39
Rodee Schneider, 40, Madison, 1:15:39
Women
Relena Del Toro Ribbons, 35, Appleton, 1:22:10
Kristin Oehlke, 34, Fremont, 1:34:56
Stephanie Clapham, 32, Wilmette, 1:34:59
Nicolet Bay 5k
Men
Dylan Schielke, 26, Merrill, 18:15
Erik Franze, 24, Waukesha, 18:54
Joseph Stoner, 34, Indianapolis, 19:09
Women
Nicole Strutz, 27, Two Rivers, 18:28
2. Gemma Mrozinsky, 53, Sturgeon Bay, 22:11
Heather Biese, 31, Kaukauna, 22:44