By Myles Dannhausen Jr.
For Brian Finnel, experience is overrated.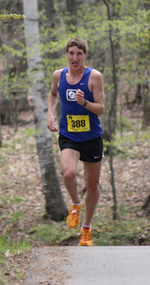 In May of 2012 the Southern Door native stepped to the starting line of the Door County Half Marathon to run the distance for the first time.
One hour, nine minutes and seven seconds later he was the first person to cross the finish line, just a few seconds off the course record.
Just a year and a half later he took his first shot at the marathon distance in Chicago. He finished in 2:23, good for 42nd overall and 21st among Americans.The time actually was actually a little disappointing for Finnel.
"I was hoping to be in the ballpark of 2:22," he says. "I was on a 2:21 pace at 21 or 22 miles, then the wheels came off a little bit. I was averaging a 5:23 pace through 21. Then 5:42, then 5:54. Then I ran the last two at 6:17. I didn't have to stop but it crossed my mind."
We should all be so lucky to have the "wheels fall off" to a 5:42 pace. I asked Finnel if he ran into a physical or a mental wall in his first marathon.
"It was definitely a physical thing," he says. "At mile 22 I was definitely physically hurting. It was a weird feeling, hadn't experienced that before."
Now the 26 year-old Glacier Creek physics and chemistry teacher has his sights set on Boston, sure to be one of the most emotional races in history. The first Boston Marathon since last year's bombing that killed three and maimed dozens more, it will be the largest in the event's history.
"I'm super-excited for it," he says. "There's going to be a lot of energy and it's going to be one memorable racing weekend. I know Boston is the more difficult course, so if I can hit the same time as I did in Chicago, I feel like that would be a better race. We'll just have to see how the training goes."
His training now calls for 95 to 110 miles per week.
Last fall he served as an assistant cross-country coach at Middleton High School, where he said mixing in light training runs with the team actually helped his training as he logged 95 – 110 miles per week. His athletes have come to appreciate the achievements of their coach.
"Like me when I was in high school, they don't really have the concept of what those race times mean until you break it down into mile times. Then their eyes get wide," he says. "Before the Chciago Marathon a bunch of them wrote me letters and quotes and followed me online. That was very cool, definitely helps."
After Boston, Finnel hopes to follow the path of Door County Half Marathon course record holder Jason Ryf and qualify for the U.S. Olympic Trials.
"That goal is definitely going to be challenging, and I don't know if it's going to be possible for 2016," he says. "I see 2020 as the more realistic goal. I have to get to 2:18 for the 2016 trials, or 5:16 per mile. I know that's going to be a pretty brisk pace. I'll have to do longer tempos. At this point the time decrease is getting harder and harder to come by."
Whether he takes a shot in 2016 or 2020, Finnel's track record says he'll probably nail it the first time out.