The entire Door County Half Marathon is run on a closed, USATF-certified road course through one of the midwest's most revered destinations – Peninsula State Park. The race begins and ends just a few strides from Nicolet Bay Beach, where the Runners' Concourse is located.
Half marathoners will have access to aid stations nine times throughout the run. Each aid station will have medical personnel and volunteers.  Water and Gatorade will be available at all locations and Clif Shot Gel will be available at Aid Station E (just before mile marker 8). Please see the course map for details.
Restrooms are located near the Eagle Bluff Lighthouse and near Tennison Bay (Miles 2 and 11 on the half marathon course and Mile 1 on the 5K). All other Aid Stations will have portapotties located just before the aid station.
Door County Half Marathon Course Highlights
USATF-certified road course closed to all traffic
The course takes runners along the shores of Geen Bay, on the bluffs atop the Niagara Escarpment, and through the secluded woods of Peninsula State Park
The course also winds past historical markers and scenic overlooks including the Eagle Bluff Lighthouse, Sven's Bluff, and breathtaking panoramic views of Nicolet Bay, Green Bay and the islands dotting Lake Michigan
Eight strategically placed aid stations
Experienced medical staff and volunteers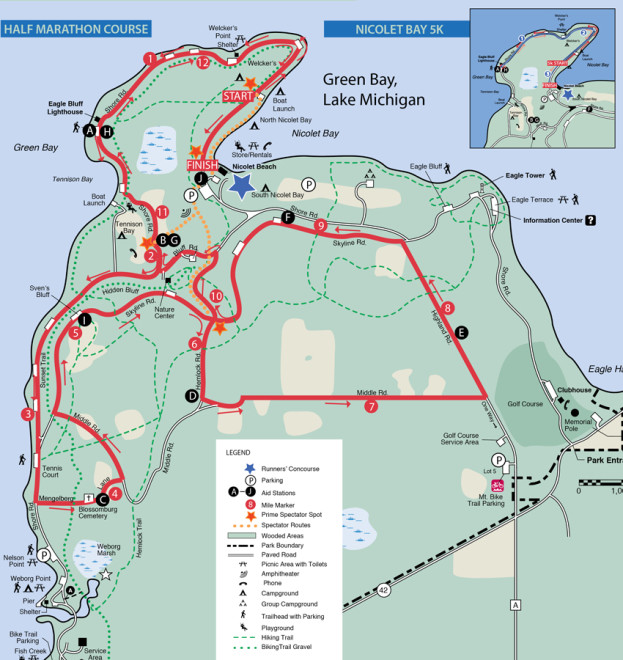 Nicolet Bay 5k
The Nicolet Bay 5k will start a few hundred yards from the start of the half marathon and will follow an out-and-back route, rather than a loop. The route will take runners down shore road to the Eagle Bluff Lighthouse, where they will turn around to head back to the Finish Line. 5k runners will use the same finish line as the half marathon runners.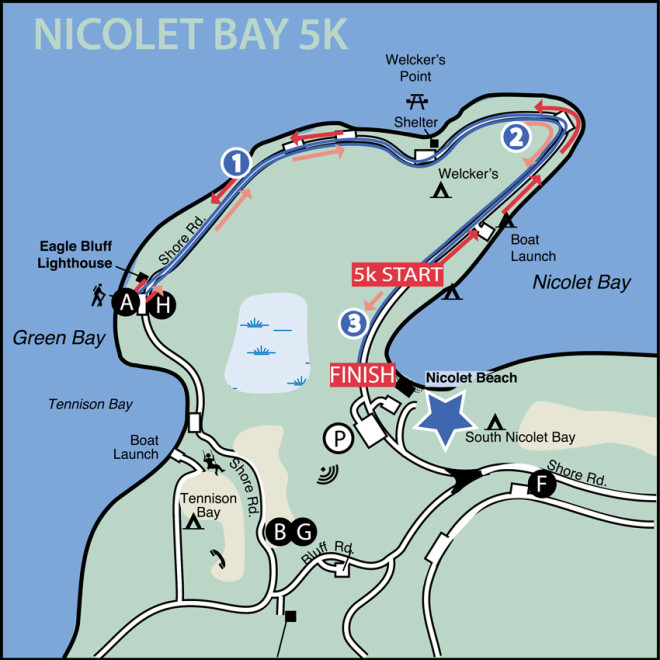 Course Video
Get a taste of the Door County Half Marathon course by watching the sped-up video below, which takes you down every step of the 13.1-mile route in four minutes and 45 seconds – just a little faster than a runner's pace.