If you've found yourself in a panic about your registration status, she has probably calmed you down.
If you wanted to raise money through our Run For A Cause program, she has guided you through the steps.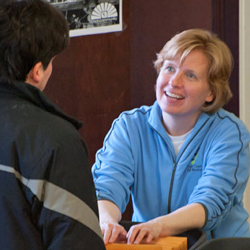 If you've run and enjoyed this race, she's been a big reason why you did.
Since this race was founded eight years ago, Mary Knutson has been a vital part of organizing an event that grew rapidly and faced new, unanticipated challenges every year.
She doesn't panic and is somehow never flustered working with a crew that constantly throws out new ideas, changes, and challenges. As this race evolved, she has been the one to dot the I's and cross the T's left in the wake of Brian, Dave, and I, calming us and our entire Peninsula Pacers crew with her unwavering dependability and attention to detail.
When a race becomes a great one, it happens in part because nobody ever knows about the work that people like Mary do behind the scenes in the months long before race morning. The Door County Half Marathon would not be the great race it is today without Mary Knutson.
That's why we're sad to say that this will be Mary's final year as our race organizer. Mary and her husband Kirk are moving to Vermont for the next stage in their careers, and while we hate to see them leave our community, we wish them the best.
So do us a favor when you see Mary at packet pickup on Friday and Saturday. Please take a moment to stop and thank her for all she has done for this race and for this community. She won't be hard to find – she'll be the one with all the answers.
Thank you Mary!
Sincerely,
Myles, Brian, Dave, and the staff of the Peninsula Pacers