When Michelle Basler slipped on a patch of black ice on a training run Jan. 19, she could have taken it as a sign to ease up on training. When she stood up and realized she had a dislocated ankle, she could have decided that the Door County Half Marathon was not in the cards this year.
And when she planted her foot, only to slip and fall again, this time breaking her fibula and tearing ligaments and tendons in her ankle, she'd have had good reason to stop running for good.
Of course, she did none of those things. Instead, she spent April trying to "get out of PT jail."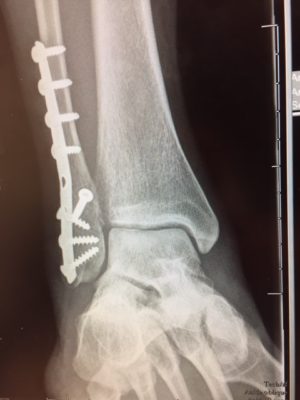 "I love to run," says the Cedar Rapids, IA resident. "I love to be in nature and under the trees. For me it's about being outside more than the pace."
But her pace is pretty good too. She ran in high school and college, but didn't come back to it until she was 40 years old. Since then, she has completed a 50k, a 50 miler, and numerous other events, including last year's Door County Half Marathon, where she placed second in her age group.
She's not back to full speed yet. In fact, she only got clearance to run short distances from her Physical Therapist last week. On Saturday, she'll step to the line at the Nicolet Bay 5k, hoping to run about a 10-minute pace where she'd usually run a 7:20 pace.
A plate and eight screws have nothing on 15 weeks of stubborn determination.