The 2014 Door County Half Marathon pace team, sponsored by Ministry Door County Hospital, will be led once again by experienced marathon pacer and Baileys Harbor resident Krista Lawell.
Lawell has paced for both the New Balance and Nike Pace teams for seven years, which has included pacing the Chicago Marathon each year since 2005. A veteran of 30 marathons (including 10 Bostons), Lawell's PR is 3:09 and she has paced several different marathon goal times.
"Running with a Pace Team is a great way to not only reach a running goal, but to enjoy the race journey," Lawell says. "Pace Team Leaders are experienced runners who attempt to run even splits to get runners to the finish line in the prescribed goal. As a pacer, I've tried to make the run enjoyable, fun and stress-free for our runners who follow us, as we are the ones concerned with the clock so you don't have to be."
At the starting line the pacers will hold signs with finish goal times on them so runners can find their pace, slotting runners in a more organized fashion and avoiding confusion. This helps spread out runners at the start and alleviate the problem of slower runners lining up too close to the front of the pack and getting run over by faster runners behind them.
"Runners can follow a pace team the entire race, or just use us to get off to a great start," says Lawell, who used a pace team to help her qualify for her first Boston Marathon in 2000.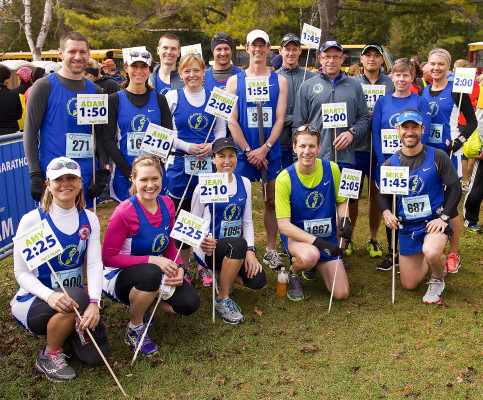 Here are the goal finish times and team members who will be there to help you from start to finish.
1:45 – Mike Terry & Mike Guth
1:50 – Jake Danen, Adam Brouch & David Schroeder
1:55 – Craig Congdon & Kathy Farina
2:00 – Marty Thomas & Krista Lawell
2:05 – Myriah Farrell & Aaron Schneider
2:10 – Jean Lemke & Ann Scholl
2:15 – Tim Mutterer & Aaron Hizon
2:25 – Amy Toporski & Katie Houle